I was so excited to be given the opportunity to make a logo to celebrate MIT Center for International Studies' 60th year of existence!  I love working with logo designs.  I don't get to do it very often and find designing a logo to be a fun challenge!  I have a lot of respect for logo designers and understand that it's very difficult to create something simplistic, yet meaningful and communicates the message clearly.
Here's what I came up with!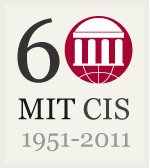 CIS sponsors many events with distinguished speakers throughout the year and highlights the latest international studies news at MIT and around the world. Check 'em out!